Luka Modric is a player widely believed to have been admired by Sir Alex Ferguson for a long time. For several years, there have been rumors of Manchester United being in to make a move for him, but last year, Real Madrid bought him from Tottenham Hotspurs. The rumors refuse to go away, however, and people suggest that should David Moyes fail to acquire the services of Cesc Fabregas after making a third and final 40 million pound bid, he will turn his sights to Luka Modric. So would he be the right choice?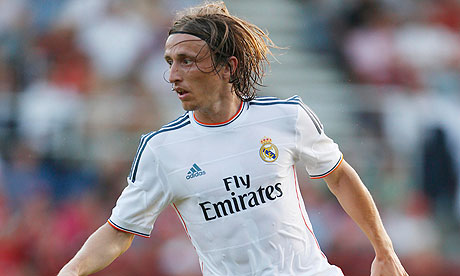 Performance from Last Season:
Luka Modric's time in Madrid started in a surprisingly low note. For the first half of the season, he was largely forgotten, and poor when he played, resulting in him receiving the "honor" of the worst signing of the summer. His cause was certainly not helped by the financial crisis in Spain, and so his price only worsened his predicament. In the second half of the season, however, he truly blossomed and became an important figure in the Madrid midfield. In the league, he made a total of 33 appearances, averaging 46.1 passes per game and having a success rate of 87.7%. In addition, he made 1.4 dribbles per game, resulting in him having an average of 1 shot per game and a total of 3 league goals and assists. In addition, he made an average of 1.7 key passes per game, while being dispossessed 1.1 times per game and turning the ball over 0.6 times per game. Defensively, he made 1.3 tackles per game as well as making 1.4 interceptions per game. Compared to Manchester United's current midfielders, he makes roughly the same amount of passes as Tom Cleverley, though he has more long balls per game, at 3.5 versus Cleverley's 3. His passing completion is slightly lower than Cleverley's at 87.7% against Cleverley's 90.2%. Modric did however make 11 more appearances in the league than Tom Cleverley and was able to be very influential in the Champions League for Real Madrid. The biggest instance of this was Manchester United's 2-1 loss to Real Madrid in the Champions League Round of 16. Upon Nani's red card, Jose Mourinho put Modric onto the pitch, allowing Madrid to take control of the match as Danny Welbeck was no longer able to commit to marking Xabi Alonso. If Welbeck were to continue to mark Alonso, Modric would be free to run the show, which was exactly what he did, capped off by a wonderful 25 yard curling strike to put Real level. This ability to run a match was again seen in his match against Borussia Dortmund, wherein he was the second highest rated player (according to whoscored.com). Overall, Modric was very influential for Real Madrid in the season gone by.
How Would He Fit In?
He will partner Michael Carrick in the center of midfield, replacing Tom Cleverley. He will, in essence, provide what Cleverley already does and more. While Cleverley most certainly moves forward while passing the ball around, Modric brings an extra dimension to the attack: his ability to carry the ball forwards. His dribbles per game is drastically higher than all of Mancehster United's current midfield options and this will prove to be key if he were to join the club. He will be able to carry the ball forward much in the vein of Yaya Toure for Manchester City, though probably better as Modric's dribbles per game at 1.4 is higher than Toure's at 1.1, and he also gets dispossessed and turns the ball over less. His passing statistics are practically identical to Tom Cleverley's but an important facet of his play is his vision. His key passes statistic is higher than all of Manchester United's midfielders, and even Fabregas and Fellaini, both of whom spent portions of the seasons in a forward position. He can most certainly play the Hollywood pass, as shown through his 3.5 long balls per game, which would mean we will be able to see quicker counter-attacking from the team as his vision and passing abilities will set either the wingers or one of the strikers through to set another person up or score themselves. He will also be able to hold possession quite well, thereby allowing United to take a slower approach when necessary, but is able to force the game, by dribbling the ball into advanced positions and help set up teammates. Defensively he would be good, as though he may make less tackles per game than Cleverley, he intercepts the ball twice as often, resulting in him taking back possession 2.7 times per game compared to Cleverley's 2.4. His creativity will only further help United when attacking, as potential link-up play with Shinji Kagawa, Wayne Rooney, and Robin van Persie is simply salivating. He also has a very good long shot, giving an added threat to the attack, one very similar to Paul Scholes at his very best, except that he is able to tackle better. At 27, Modric is in his prime, and will perform at his very best for United, and in his later years, he can take over Carrick and do what Scholes did in his latter years: orchestrate play from deep.
The Key Problems:
Signing Luka Modric has plenty of potential to be one of the greatest signings by Manchester United, but he is likely to suffer from the same problem that Fabregas would suffer from if he were to join United: being overrun by powerful players who are still technically proficient. While Modric can definitely control proceedings, one has to wonder as to whether or not he can impose himself on matches when faced against bigger and stronger opposition. One would fear that the lack of a physical presence in the center of the field will just end up hurting United rather than helping the team, no matter how technically skilled the players are. While a person may wish to point out the dominance of Barcelona over the past few years in European football, performing magic with a team of very short, nimble players, they were absolutely annihilated by Bayern Munich in the Champions League this past season. Carrick most certainly has the technical ability, and is willing to work hard for the team, and so is Modric, but the underlying fear is that a big, strong midfield will overrun those two in the center of the park. Defensively, he will still prove to be a better option than Fabregas, but is he the best option? He is in his prime and will play well for at least three years, and after that will likely take over from Carrick in orchestrating the play, but United's current problem will pop up once again. He will certainly provide a boost to the team, but a more long-term option may be the right choice.
To Sign or Not To Sign?
Luka Modric is one of the best midfielders in the world, and he will be bringing his best to Manchester United. He has top tier passing abilities, amazing vision, and carries the ball forwards to force the play. Defensively he is sound, and will prove to be a valuable partner to Carrick in the midfield. But the fear of being overrun by physically dominant and yet very intelligent footballers remains. Modric will be bringing genius options in the attack, and his link up play with United's current attackers should likely bring most opposition defenses to their knees. As he ages, and Carrick goes out of the team, Modric will most certainly take over Carrick's role in orchestrating play from the deep, yet will still burst forward at the right moment, with his killer long shot being eerily familiar to Paul Scholes at his best. But one must wonder if Real Madrid will be willing to sell him, with Xabi Alonso aging and Asier Illaramendi not read for the first team, Modric will likely bridge the gap to introduce Illaramendi to the starting eleven. If Madrid do sell him at his reported price tag at 31 million pounds, he will bring a valuable improvement to the United midfield though the fear of being overrun by the likes of Bayern Munich will remain. Yet the question remains, can he be the next Ginger Prince?
Likelihood: 5/10
Impact: 9/10