Ever since the departure of Roy Keane, Manchester United's midfield has lacked a genuine, powerful presence to dominate the midfield in matches. The problem appeared to be solved when Owen Hargreaves arrived in 2007, helping United to win the Champions League in 2008. Key was his partnership with Paul Scholes and Michael Carrick or Darren Fletcher, allowing a front three of Carlos Tevez, Wayne Rooney, and, of course, Cristiano Ronaldo to run riot and wreak havoc on opposition defenses with full freedom afforded to them. After that season, however, Hargreaves would go on to only make 4 more appearances for Manchester United in the three seasons afterwards due to constant injury troubles, weakening the midfield. These problems were only further compounded with the loss of Darren Fletcher from December 2011 onwards due to ulcerative colitis, though he does appear to be making a return. The question lies as to whether or not he will be the same player he was before injury struck him down, and even if he does reach his previous levels, Manchester United's midfield is in a desperate need of reinforcements. First in a series of articles, we shall look into Manchester United's current midfield options.
Michael Carrick:
Bought in 2006, Michael Carrick has truly grown into a top-tier defensive midfielder. He runs the Manchester United engine room, essentially controlling the pace of the matches, playing the passes and keeping the midfield ticking. In 36 league appearances (2 as substitute), he has an average of 5.8 long balls per game, averaging 77.1 passes per game with 88.1% of his passes reaching their target, while having the ball stolen directly from him 0.8 times a match and having 0.4 turnovers a match. In addition to his fantastic ball retention abilities, he is solid defensively, completing 2.3 tackles per game, 2.1 interceptions, while only conceding 0.8 fouls per game. The one problem with Carrick is his lack of goals and assists. Despite all his passing abilities, he scored 1 goal in the league last season and had 4 assists, having 0.5 shots per game. This is likely a direct result of him playing a conservative role in midfield rather than being inept in forward areas. Another concern would be his age. Having just turned 32, Carrick has a few years left at the top level, aided by the fact that midfielders like him tend to last longer in the game, the best example being Andrea Pirlo whose legend just keeps on growing even at the age of 34. Key for Carrick in these coming years is the fact that his vision and passing abilities should remain intact, allowing him to orchestrate the attack from deep, while helping out in taking the ball back swiftly in order to allow Manchester United to attack.
Tom Cleverley:
A Manchester United youth product, Tom Cleverley holds promise, but he is already 23, and it is time for him to step up. He is very neat and tidy in possession, and over his 22 league appearances (4 as substitute) in the past season 90.2% of his passes reached their intended target. In addition, he completes an average of 3 accurate long balls per game, 0.2 dribbles per game, and 0.9 shots per game, resulting in 2 league goals and 2 assists in the past season. Defensively, he is decent, making 1.7 tackles per game, and 0.7 interceptions while giving in 0.8 fouls a game. He gets dispossessed 0.5 times a match and turns the ball over 0.6 times a match. While his statistics appear all fine, that is precisely the problem. It is just above average. The ball retention abilities are important to his game, and will prove integral to him keeping his place in the team. Both he and Carrick can hold onto the ball very well, and keep it moving throughout. While he may move up and down the pitch while Carrick holds his position in a deeper role, he needs to improve his abilities to drive the ball forwards. If he were to able to push the ball forwards instead of simply passing and moving, his game would be taken to another level. Additionally, he simply needs to get stuck in more. His tackling is fairly similar to Carrick but he makes drastically less interceptions than Carrick does, indicating that his positioning may be suspect. Against stronger teams, Cleverley's weaknesses are only highlighted further, best seen in the FA Cup Quarter-Final against Chelsea at Old Trafford, where both he and Carrick were simply overrun in midfield upon the arrival of John-Obi Mikel who stamped his authority on the match, taking over midfield and giving Chelsea's front four complete freedom to wreak havoc on the Manchester United defense. Overall, Cleverley has the technical ability, but he needs to be able to stamp his authority in a match, taking over and helping control the midfield.
Anderson:
Bought in 2007 with a high level of promise, Anderson seemed set to take the world by storm. The highlight came with him scoring a penalty in the 2008 Champions League Final, helping United win the trophy. His career, however, has stalled since, with a combination of his weight problems, injury, and plain inconsistency has caused the once bright youth prospect to fail to reach his potential. Now 25, Anderson faces a make-or-break season with United, trying to cement his place in the squad. In his 17 appearances last season, 9 which he started, he averaged 37.8 passes a match, completing 86.4% of his passes. Furthermore, he made an average of 3.9 long balls per game, with 0.7 dribbles as well. He took an average of 0.6 shots per game resulting in 1 goal and 1 assist. He does have the ability to absolutely control matches as was seen upon his introduction against Queens Park Rangers at Old Trafford, but more often than not, he is unable to hold a level of consistency. He is capable of playing Hollywood style passes as evinced by his long ball accuracy, but his overall passing abilities are a bit lacking, as he has the lowest passing percentage out of United's top three midfielders. He also makes an average of 1.1 tackles per game, with 0.4 interceptions but conceding 0.5 fouls. This is once again the least out of United's top three midfielders, and implies that he does not track back as much as he should. It could be marked down to his fitness but still, he needs to be more active defensively, especially considering the fact that he rarely completes the full 90 minutes in a match. Another problem is the amount of fouls he gives away despite his fairly low defensive output. In addition, he gets dispossessed 0.8 times per game, and gives the ball away 0.6 times per game. He does have the highest amount of dribbles per game in the United midfield, which is 0.7, but that only serves to highlight the fact that United's midfield is in desperate need for someone who can carry the ball forwards and press the game. At his best, Anderson is world class, but his inconsistency is a problem, which is why he is unable to hold a first team place and is likely better off as a squad player. He is 25 now, and he must truly step up if he wants to keep his place in the squad, though it is very unlikely that he will become the answer to United's midfield woes.
Phil Jones:
Seen by many as a future England and Manchester United captain, Phil Jones has the strength to boss the center of defense, and his future is most certainly as a center-back, not a defensive midfielder. While his defensive statistics certainly hold up, with 1.6 tackles per game and 1.9 interceptions per game, his ball-retention abilities are not as good as they need to be for United to be able to hold up in Europe. He gives away 0.8 fouls per match, gets dispossessed 0.8 times a match, and turns the ball over 0.6 times a match. Furthermore, he only makes an average of 34.9 passes per game, with 85.3% of them reaching their intended target. He does have the ability to burst forward, but only makes 0.4 dribbles per game, and takes 0.6 shots per game, causing him to have 1 assist and no goals in the league in the past season. He certainly holds promise at the age of 21, but his future is most certainly at center-back, not in midfield as he simply lacks the ball-playing abilities possessed by Michael Carrick and other top tier midfielders in the world. He played 17 times in the league last season, with four substitute appearances, and while he can perform admirably in the midfield, he is simply meant to be a central defender.
Nick Powell:
Holding massive promise at the tender age of just 19, Nick Powell is seen by many to be the future leader of the Manchester United midfield. The problem is that he is simply too young to be inserted straight into the first team and needs a couple of loan spells, most probably to other Premier League clubs, in order to develop effectively and fulfill his burgeoning potential. Over his two Champions League appearances last season, he made an average of 30 passes per game, 1.5 long balls, 0.5 dribbles, 2 shots, and 1 goal with no assists. His passing accuracy was fairly low at 81.7% but one must remember that he played in the cauldron that is the Turk Telecom Arena as well at Old Trafford, with the team having nothing to play for already having won the group. While not as solid as his teammates defensively, he needs playing time at another club in order to improve, and he will likely turn into a player similar to Michael Carrick, except with a shot like the one Paul Scholes used to have. He is most definitely one for the future, but not the answer to United's current midfield problems.
What about Shinji Kagawa, Ryan Giggs, and Wayne Rooney?
Shinji Kagawa definitely is a world class midfielder, except for the fact that he plays directly behind the striker. He is simply not strong enough to provide cover to the defense in the heart of midfield, while having the passing range and the vision. He will most likely go down the route that Paul Scholes has over his career; starting out behind the striker and slowly moving backwards and eventually controlling the midfield from a deep lying playmaker position. Kagawa possesses high footballing intelligence, allowing him to slip into gaps in the opposition defenses and exploit them; he has perfect close control, allowing him to glide past defenders and he has fantastic vision, allowing him to pick out perfect passes. At the age of 24, he will definitely continue to get better.
Ryan Giggs is on the opposite side of the coin, and at the young and sprightly age of 39, he has only a year or two left in his career. While it will be a shame to watch him go, he was never the answer to Manchester United's midfield woes. He is able to play the passes but he does not have the defensive abilities needed in all top-tier midfields. At his age, he does not have the amount of stamina needed to last the whole match in such a demanding position, and he also does not have the authority that certain midfielders possess to stamp their presence on the match. Even if he had these abilities, he is unlikely to stay much longer is and is not a long term solution for this problem.
Wayne Rooney does have the potential to play in the midfield but the question remains as to whether or not he can actually fully perform there. While he can most definitely play the Hollywood passes, he needs to improve his overall pass accuracy, which is currently at 82.9%, not good enough for a central midfielder. He does have boundless energy and can certainly keep the game going; he needs to improve his ball retention abilities if he is to be a long term solution in midfield. But then again, the question remains as to whether or not he will be at United in the next season.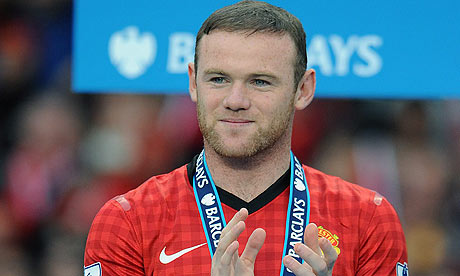 Who Then?
The ideal midfielder for Manchester United needs to be mobile and be able to force the issue when needed. He needs to be able to take the ball back and hold onto it well, but be able to push forward and make the opposition midfield make mistakes. Basically, high levels of passing, and very good defensive skills, providing the perfect partner to Carrick by shuttling back and forth, up and down the field, while Carrick holds his position and keeps the midfield ticking. Throughout this series, we will look into reported midfield targets for Manchester United and determine who will be the best to sign in order to solve our current midfield woes.