As the transfer window approaches its inevitable conclusion, Manchester United are yet to reinforce the core of the team; they are still yet to sign a central midfielder. As time ticks down, a new name has popped up in the transfer rumors, that of Ander Herrera. An Athletic Bilbao player, United have already had one bid for him turned down, with the Bilbao president saying that Manchester United will have to pay his full buyout clause, believed to be at 36 million Euros (30 million pounds) to attain his services. The question is, is the young Spaniard worth such a high price?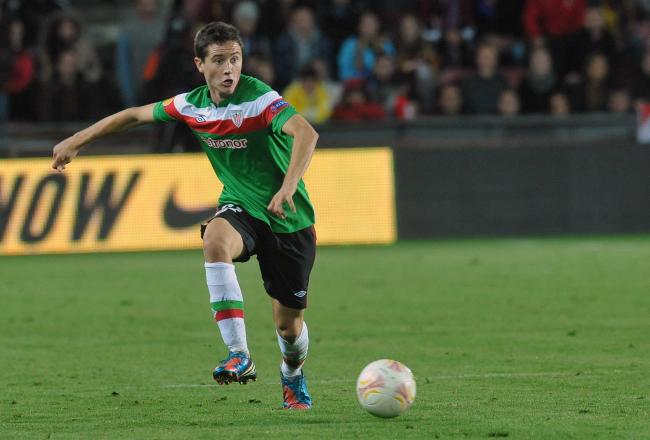 Performance from Last Season:
While Bilbao suffered a noticeable drop-off in the previous season, especially when compared to the heights achieved in the 2011-12 season, reaching the Europa League and Copa del Rey finals, Ander Herrera performed rather well for the team. He was able to accumulate 29 appearances for the Basque team, in which he averaged 66 passes per game, while only completing 80.9% of the passes he attempted. The passes attempted number is significantly higher than that of the second-best midfielder in Manchester United's current squad; attempting 17 more passes on average than Tom Cleverley. The difference is in the fact that Herrera loses the ball much more often than Cleverley does, completing 10% less passes than Cleverley. While he still completes more passes as a total than Cleverley does (53 completed per game vs. 44 completed per game), his tendency to give the ball away is a bit of a problem. An explanation for this could easily lie in his key passes statistic. On average, Ander Herrera completes 1.3 key passes per game, showing that he is more than able to pick out his teammates and create goal scoring chances. This statistic is higher than that of United's best midfielder in the form of Michael Carrick who completes 1 key pass per game, and Cleverley makes 0.9 key passes per game. Despite making opportunities for his teammates quite frequently last season, Herrera only had 2 assists. Here it can be put down to one key factor: Fernando Llorente's apparent banishment from the squad, wherein he received little to no play-time throughout the season due to the fact that he wished to join Juventus. The man who was Bilbao's key man the previous season played little to no part for the club in the 2012-13 season, leading to lesser goals for the club.
Nonetheless, Herrera also managed to score one league goal for himself in the previous season. Herrera possesses the ability to pick out his teammates from a distance with ease, as demonstrated by his 4.3 completed long passes per game, putting him a level above that of Tom Cleverley's, completing 1.3 more long passes in a match on average. This is only one more facet in the attacking abilities that Herrera possesses, as he also completes 1.5 dribbles per game, a number that is significantly higher than that of all of the United midfielders, showing that he will be able to carry the ball forward when necessary and with ease. This attacking work leads to him having 1.9 shots per game, another statistic that is well above that of any of United's current batch in the center of the park, showing that he is not at all afraid to get forward. What is so amazing about his attacking abilities is the simple fact that he is more than willing to track back and defend. Driven by the loss of Javi Martinez to Bayern Munich, Athletic Bilbao needed someone to step and fill his shoes, and Herrera did just that, completing 4 tackles per game on average last season, with 1.3 interceptions per game. The tackles per game statistic is higher than all of United's current midfielders, and the interceptions is above that of Cleverley's showing that he will be able to provide a defensive presence when necessary. Putting in such a hard defensive shift inevitably results in a higher rate of fouling players, and that is shown through his 1.8 fouls per game, something that he will definitely have to lower should he join United. He is also dispossessed 1.9 times per game and turns the ball over 1.5 times per game, again showing that he has some work to do when it comes down to his ball retention skills. At the age of 24 though, he can definitely improve.
How Would He Fit In?
Quite simply, Herrera would replace Tom Cleverley as a partner to Michael Carrick to form Manchester United's midfield duo, be it in a 4-4-2 formation or a 4-2-3-1 formation. His abilities to both attack and defend will be very important to the team should he join. He will be able to provide creativity both going forward and going back to defend, being an improvement to Tom Cleverley. His presence in forward areas will cause problems for opposition defenses, who already have to worry about the creative abilities of Wayne Rooney, Shinji Kagawa, and Robin van Persie, thereby leading to having someone open as an option to pass to. Should the opposition concentrate solely on one player, the others will be left open, forcing the opposing teams to worry about all of United's attacking prowess. One simple lapse in concentration will lead to an opening, an opening that could be easily exploited with the talent on hand. Herrera will be able to provide extra creativity in the final third of the pitch, something Cleverley is not able to do often enough in matches, and hence aid all of United's forwards by finding passes along with creating space to run into. He will also allow Michael Carrick to play as a deeper-lying, holding midfielder, orchestrating the play from a position more back in the field. Herrera's presence will free up Carrick to play how he wishes, to conduct the orchestra, and Herrera's own abilities going forward give United 6 viable creative options when attacking, the wingers, the attacking midfielder, the striker, as well as the central midfield, an area from which not enough goals and assists have been coming as of late. His abilities to pull off long balls with ease and consistency will also allow United to spread the play and play the traditional United fashion with wing play as well as technical skill and tiki-taka-esque football, especially with the abilities of Kagawa, Rooney, Herrera, and Carrick. Quick, one-touch passing can be expected from the team should Herrera join, providing the team with a bit of Spanish flair. In addition, he will be able to carry the ball forwards, something United have missed coming from the midfield for a while now. Equally important will be his defensive contribution. The hard work that he puts into defending will be very important, as it will allow United to gain the ball quickly after losing it and essentially dominating midfield areas. At the age of 24, he can develop into the leader of the United midfield.
The Key Problem:
The potential problems with signing Ander Herrera lie in his tendency to give the ball away consistently. His 80.9% passing completion rate is simply not high enough. He loses the ball far too often when passing, something which he needs to improve upon as it may simply end up causing the opposition to counter-attack and even score a goal against the team. Against the very best teams in Europe, especially, being so profligate with the ball is just asking for trouble. He needs to learn to play the safe passes when necessary to ensure that United hold onto the ball as long as possible and create chances as well. His tendency to give away fouls is another spot of worry; providing the opposition with set pieces, especially the best teams, is a very dangerous proposition, as they will easily exploit any weakness in the Manchester United defense and score the goals. He is also not yet proven in England, and my struggle a little bit with the physicality of the game, being a bit small, but we have seen small, yet technically gifted Spaniards such as Santi Cazorla, Juan Mata, and David Silva flourish in the Premier League. Yet you can never be too sure about any player.
The Right Signing?
Perhaps Ander Herrera can become the player Manchester United need to solve their midfield problems. He certainly has the potential, he certainly has the talent. He can keep the ball moving, ping long balls with ease, find through passes, and dribble past the opposition while also putting in a hard work rate in helping out the team by defending as well as regaining possession quickly and efficiently, a byproduct of working under Marcelo Biesla. But worries are there with his tendency to give the ball away to the opposition relatively frequently. Herrera fouls opponents quite often and just plain gives the ball straight to the opponents, something the best players could take advantage of and exploit, exposing the defense very often. Nonetheless, he will most certainly grow and improve, especially as he has yet to hit his best years considering he is still 24, but is he worth 30 million pounds? Perhaps, but we will have to wait and see.
Likelihood: 7.5/10
Impact: 8.5/10