Manchester United's search for a midfielder has led to many names pointed out by football journalists and fans alike, each one suggesting that they know the player to solve the club's need for reinforcement in the center of the park. One name that has not been mentioned nearly often enough (or even at all) is the name of the Lyon defensive midfielder Maxime Gonalons. A person known to those who watch the Ligue 1, Gonalons is the heart of the Lyon midfield, but could he make an impact on the Manchester United first team?
Performance from Last Season:
Maxime Gonalons proved to be integral to Lyon's season as he was able to not only pass the ball around and keep it moving, he was more than able to do his defensive duties and aid the team from conceding goals when necessary. Not only was he able to be a source of the ball for his teammates, he would work hard in order to ensure that the team always had the ball when they were playing. In his previous season, Gonalons averaged 63.5 passes per game while completing 88% of the passes that he attempted per match. These are both very good passing numbers, showing that he is both comfortable on the ball and is able to move it around with ease. For comparison's sake, he played many more passes than Tom Cleverley per match (about 14.5) while keeping a completion rate that was roughly the same as Cleverley's. To counter these statistics, one might argue that he makes only "safe" passes; passes that go backwards and sideways, never forwards, something that is incorrect. Gonalons is more than able to pick out the perfect pass from a distance, as he completed an average of 6.8 long balls per game, showcasing both his vision to be able to see his teammates in the position to receive the ball, as well as his technical skill to be able to place the pass with perfection and with such consistency. The long balls completed per game is significantly higher than that of any of Manchester United's current midfielders, averaging exactly one more completed long ball per game than Michael Carrick. Upon this, he was only dispossessed once per game and turned the ball over 0.8 times per game, both numbers which are only slightly higher than that of United's current midfielders. He does make an average of 0.4 dribbles per game and take an average of 0.5 shots per game, leading to 3 league goals and no assists in the past season for the club. The above statistics highlight that he may not necessarily be the most creative of midfielders, by providing direct assists and creating chances directly for his teammates, especially proven by his 0.3 key passes per game, lower than all of United's current midfielders, but he is more than able to keep the ball moving and spread the play when it is required, indirectly leading to chances on goal. Upon that, Gonalons was very active defensively, as he was able to put in an astounding 4 tackles per game, a number that is well above the current highest for United in the form of Carrick who makes 2.3 tackles per game. Gonalons is also very adept at being able to read the play, as highlighted by his 3.1 interceptions per game, thus aiding Olympique Lyon to be able to attack with freedom while he was also important in being the engine that essentially ran the midfield. With so many tackles come the fouls, and that is a bit of a worry as he gives away 2 fouls per game, a number that is not that great, but his ball-winning abilities compensate giving away the fouls. All in all, Maxime Gonalons was very important in the past season, aiding the club by bossing and running the midfield.
How Would He Fit In?
Maxime Gonalons would more than likely partner Michael Carrick in the center of the park. Their partnership will come to be integral to allowing Manchester United's front lines to have near complete freedom when the team is attacking. An important aspect of his game is to be able to keep the ball moving, and that is exactly what both he and Carrick will be doing should he join United. Both of them are more than capable at passing the ball around and they will ensure that the ball will simply not stop being in motion, allowing for movement and fluidity of play on and off the ball. They will be able to find different options in attack, as both of them are more than capable of pulling off stunning long balls, with equal skill. Both Carrick and Gonalons have similar technical abilities so it will not be very surprising if Gonalons were to move into Carrick's role in a few seasons as Carrick ages and Gonalons inevitably will improve. But currently, Gonalons' tackling abilities will prove to be integral in how United will be able to play both in the present and beyond. He has a very high defensive workrate and is always trying to make sure the team has the ball. This aspect of his play will prove to be important as it will provide United with the strong and powerful midfield presence that has been lacking for several years now. Carrick wins the ball back fairly regularly but Gonalons is at another level. By putting them both together in the center of the park, United will be able to win the ball back very quickly and easily after losing it, fitting in with a high pressing style of play. This in turn will allow Shinji Kagawa, Wayne Rooney, Robin van Persie, along with Carrick himself to have much more creative freedoms to be able to dictate play as the knowledge of a safety net is everpresent for the players. By knowing that someone is always available and willing to steal the ball back from the opposition in no time at all should allow the players to try newer and more creative ideas, as they shall be less afraid of losing possession. In addition, Gonalons should provide an extra cover, a secondary layer to the defense, thereby preventing the club from conceding as often as the club has in recent memory. He will help shore up the defense by aiding them in their duties, so instances like when Gareth Bale tore past the United midfield and defense to score a goal in Tottenham's 3-2 win at Old Trafford should not happen again. Overall, Gonalons will prove to be an important piece in the United midfield.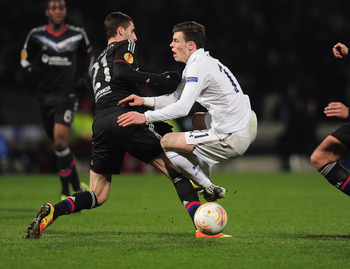 The Key Problem:
If there is to be any problem with this potential signing, it will likely be the fact that Gonalons appears to be prone to giving away fouls quite often. Committing two fouls per game is fairly high, and could be a bit of a problem. Giving away set pieces would be an issue, especially in a big match, especially if it is in a dangerous position but one can never be too safe. Though expect the number of fouls to go down as he grows and learns the arts of tackling and effectively improve, becoming a workhorse in midfield. Another worry may be the fact that he would appear not to be that mobile; his 0.4 dribbles per game would suggest he is not that good in carrying the ball forward, making bursting runs out of the midfield and into forward spaces. In terms of play, he could be compared to Michael Carrick and at his age, he will be a great understudy and take over his role, but then the problem of his partner will rise again. He can most certainly boss games as he did in the Europa League and Ligue 1, but will he be able to take the next step up? One can never be too sure.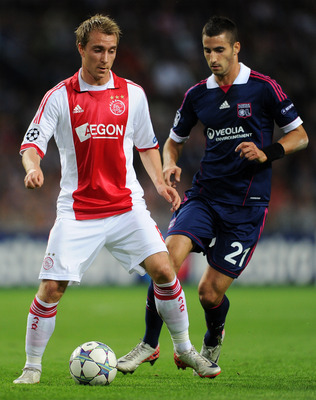 The Solution?
Maxime Gonalons is the all-round package. He possess the ability to play the ball around with ease while also being adept at tackling and basically taking the ball back from the opposition. He would prove to be an ideal partner and eventual replacement for Michael Carrick, though his ability to give away fouls may appear to be a bit of a turn off. He is most certainly young, at the age of 24, and his reported price is only 10.5 million pounds. Expect Lyon to twist Manchester United's arm around when it is coming to price as he is one of their most valuable assets. If Untied is able to acquire him for the above price, or even anything under the 20 million pound mark, he will most certainly be a steal, and a great player for years to come.
Likelihood: 5/10
Impact: 9/10