Eintracht Frankfurt surprised many in the Bundesliga by finishing sixth in the league despite having been promoted in just the previous season. As a result, interest in their players has risen significantly. One such player is Sebastian Rode, the engine of the Frankfurt midfield, who has had a fantastic 2012/13 season. If anything, he can be the solution to Manchester United's persistent midfield issues. So how will Rode be able to impact United should he join?
Performance from Last Season:
Sebastian Rode was absolutely magnificent in the Eintracht Frankfurt midfield in the previous season, as he was the person who simply ran the proceedings in the center of the park. Not only did he provide the defense with sufficient cover to aid in preventing the concession of goals, he was able to provide an additional threat while going forward, aiding the front players such as Alexander Meier in order to create opportunities for his teammates in Frankfurt. He made a total of 33 appearances for Frankfurt in the Budesliga over the past season, a huge amount for one at the age of 22, showing the trust that the management has in his abilities. This trust was vindicated as he averaged 53.5 passes per game, at a completion rate of 84.4%. While he did make more passes per game than Tom Cleverley, his completion is not as high, though one should expect these statistics to improve if he were to join Manchester United, thus playing with better players and a better midfield. While someone may assume that he is simply playing backwards or sideways passes, that idea is dismissed by his long balls statistic: he completes an average of 5.4 long balls per game, at a completion rate of about 80%. For comparison, Michael Carrick completed 5.8 long balls per game for United in the previous season, though his completion rate was 75%. His ability to play long balls with such ease, especially at such a young age highlights both his vision and his ability to pick out teammates, an ability that will undoubtedly improve with time.
He can easily carry the ball forwards as well as he would make 1.5 dribbles per game, a statistic that his significantly higher than all of Manchester United's current midfielders. To highlight his ability to be able to carry the ball forwards, he completed more dribbles per game than Bastian Schweinsteiger and Yaya Toure, both players renowned for their ability to hold onto the ball and move it forward. In addition, Rode made 1 shot per game. another number higher than all of Manchester United's current midfielders, signifying his offensive threat, coupled with his average of 1 key pass per game. Despite this, he only had 1 assist in the whole season, something that can be put down to having inferior teammates than he would if he were at Manchester United, and zero goals, something which he should hopefully work on if especially considering he averages a shot per game.
One might assume that due to his hard work in attack, he would sacrifice his defensive duties, but nothing can be farther from the truth. He averages 3.3 tackles per game, a number that is 1 tackle higher than Manchester United's current highest tackler in Michael Carrick. Rode also intercepts the ball 2.5 times per game, once again beating out all of United's midfielders in winning back the ball. He did, however, commit two fouls per game, a bit of a worry, though this is likely to improve with time. He only is dispossessed once per game, and turns the ball over to the opposition 0.8 times per game, numbers which are both slightly higher than United's current midfield options, but once again, should improve if he were to join. Overall, Rode proved to be the key in Eintracht Frankfurt's surprising season in the Bundesliga.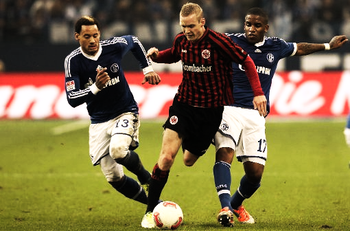 How Would He Fit In?
Simply put, he would slot in very nicely right next to Michael Carrick in the center of midfield. His defensive abilities will prove integral in Manchester United holding onto the ball as doing so will allow the team's forwards to roam with much more freedom than they currently can. The likes of Shinji Kagawa, Robin van Persie, and Wayne Rooney will be able to let their creative juices flow and create goals out of nothing. Both he and Carrick will prove to be a very solid pairing in the center of the park as they will be able to win the ball back quickly and with absolute ease. Combined, they should theoretically win the ball back 10.2 times per game, a massive increase for the team. It would seem to imply that United would be holding onto the ball for very long stretches of the match, as they both will be able to press and have the ball back in possession in next to no time at all. In addition, Rode's abilities to play the ball forwards will be reminiscent of Paul Scholes at his very best; along with Carrick, there will always be a solid plan B should quick, short, ground passes not be working for the team. Even then, if the midfield were to start becoming clogged, Rode can simply carry the ball forwards, as reflected by his dribbling statistic. If it is needed, he will be able to take the ball and move it up into higher areas of the pitch in a manner similar to that of Yaya Toure for Manchester City. His vision will provide an additional threat for the team when he does move forwards, thereby causing more problems for the opposition defense, as he can easily burst forward from a deep lying position right next to Michael Carrick and play a through pass with ease to one of the forwards, as reflected by his key passes statistic. In joining United, expect his passing completion to increase, as he will simply be playing with better players than he currently does and will only continue to grow into one of the finest defensive midfielders in the game. Simply put, Michael Carrick will be allowed to stay back in a deeper position, not being required to move forwards until necessary while Rode would partner him and move up and down the field to aid Carrick in his playmaking duties, as well as his defensive duties. Signing Rode would also allow Moyes to easily implement a high pressing game that he appears to want to utilize at the club, especially thanks to Rode's fantastic engine. If Carrick were to be shut down by the opposition midfield, Rode can easily take over his mantle, as he possesses both the vision and the technical skill to pick out long balls and short passes. All in all, it will be like getting a young Paul Scholes with the ability of Roy Keane in one player.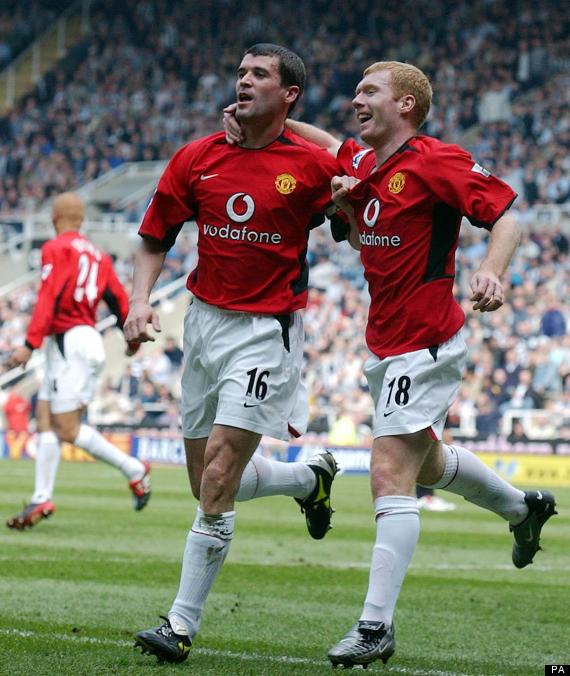 The Key Problem:
Worries would remain over Rode's abilities to perform under pressure. Would he be able to give his best against the very best in Europe? Doubts are there, especially considering his age. While he should certainly be able to dominate against many teams, can he do it against the very best in the world? It is likely that he would improve greatly with age but one would doubt he would do this right now. Despite this, if one were to look at Frankfurt's 1-0 loss to Bayern Munich, you would notice Rode still was able to perform quite well. He completed 84% of his passes, won two dribbles, and still was able to put in 4 tackles, against a team that simply dominated all competitions they participated in. This would suggest that Rode has the ability to perform at the highest level but one cannot ever say for sure. His passing accuracy is a little bit of a worry; while it is currently good, he must increase it to truly perform at the highest level. Furthermore, the amount of fouls he gives away is a bit of a worry. In the same match against Bayern, be also committed 4 fouls, a rather high number for a single player, and an average of 2 fouls per game is rather dangerous. Nonetheless, his ability to tackle would make up for this but at the highest level, few mistakes can be made. Against the likes of Bayern, against teams with strong, physical midfielders, he may certainly be able to perform, but will his youth and potential inexperience catch up to him? While he plays like a player who is five years older to him, he may still be a little rash in the tackle, and still make a mistake, but this is likely to be rectified as he learns and grows into a better player.
The Solution?
Considering the many factors that Rode brings to the table, his long passing, his ability to find the right passes in the right situation, his ability to carry the ball out, and of course, his ridiculously hard work in defending, anyone can easily see the skill that he brings to the table. Slight worries may come as his passing accuracy is quite decent but not as high as it can be, and he does have a tendency to give away fouls, but nonetheless, he is only at the age of 22, playing as though he has been playing as long as Ryan Giggs, and will only serve to get better and better, eventually into one of the world's best if he joins. Add a reported cost of only 7.9 million pounds, Rode is very, very cheap in today's inflated market, especially considering the kinds of performances he has turned in on a daily basis for Eintracht Frankfurt. All in all, Sebastian Rode could very easily transform into Manchester United's very own Bastian Schweinsteiger
Likelihood: 7/10
Impact: 10/10